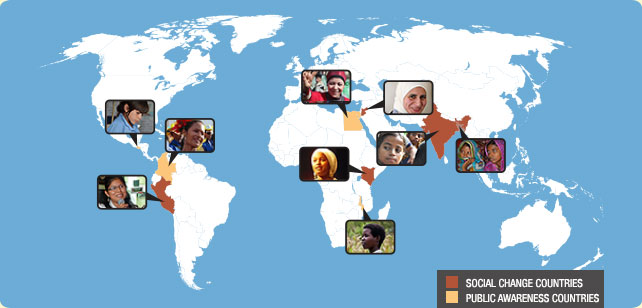 Social Change Countries
Women and Girls Lead Global is using media to raise awareness and promote action on issues such as child marriage, teen pregnancy, and gender-based violence (GBV) in Kenya, India, Bangladesh, Jordan, and Peru. Working with local engagement partners to share films about the world's most pressing gender issues with schoolchildren, rural women farmers, traditional leaders, and youth activists, WGLG encourages communities to brainstorm their own solutions to the challenges they face, and creates new media that speaks directly to their concerns.
Public Awareness Countries
In Malawi, Colombia, and El Salvador, WGLG is partnering with UN Women and CARE to raise the visibility of girls' and women's issues by bringing film into urban classrooms and mountain villages alike.
Malawi

Led by one of Africa's only female heads of state, Malawi has made important strides in women's civic engagement, maternal health, and small business development. WGLG is partnering with UN Women to bolster these tremendous developments, and to tackle issues like GBV, child marriage, and access to family planning services.

Learn about broadcast partner Malawi Broadcasting Corporation.

Colombia

Two generations of women in Colombia are living with the scars of 50 years of armed conflict. WGLG is providing media tools to UN Women in its efforts to secure justice and reparation for women survivors of violence.

Learn about broadcast partner Radio Television Naciónal de Colombia.

El Salvador

With rising rates of GBV, an ongoing reproductive rights debate, and widespread economic insecurity, women in El Salvador still face many obstacles to achieving equality. WGLG outreach partners like UN Women and ISDEMU continue to push for women's rights and opportunities.

Learn about broadcast partner Television Naciónal de El Salvador.

Egypt

A key country for WGLG when the initiative was designed in 2013, Egypt has undergone tremendous change in the past year. WGLG activities have been suspended until working on the ground becomes more viable.
Malawi photo by Swathi Sridharan (ICRISAT)
Colombia photo by Luis Pérez
Egypt photo by Al Jazeera English